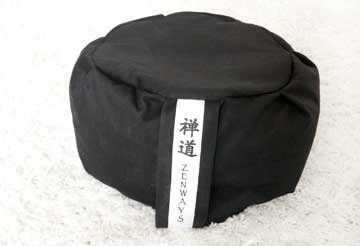 ZAFU meditation cushion
ZABUTON meditation matt
The Zafu is made out of very tight and durable cotton fabric, sewn with triple seams and filled with buckwheat husks. It weighs on average 1600 grams. The Zafu can easily be machine washed after taking all husks out. Zabuton is padded with polyester wadding. In the standard version they come with the Zenways logo on the handle, but you can also order it with your name either in European or Japanese characters.

Zafu £40 + postage
Zabuton £35 + postage
Zafu+Zabuton set £70 you save £5 + postage
personalized with name + £5 each
As we do not keep stock and custom-make every piece, please allow at least 10 working days for production and time for delivery.
To order please email the address below. Payment can be made via Paypal or UK bank transfer.





yoga, meditation, mindfulness, sitting, relaxation, health, wellbeing, course, courses, class, classes, retreat, retreats, hogetsu, zenmoon, creativity, zazen, buddhism, rinzai, Japan, japanese, zen, london, se, southeast, south, east, uk, united kindom, baerndal, bärndal, deptford, lewisham, lee, greenwich, bench, benches, cushion, zafu, zabuton, rakusu, wakesa, samue, jubon, fleece, jacket, japanese, hakama, layperson, outfit, clothing, handmade, hand crafted, hand, crafted,